2020 Porsche 911 Interior Features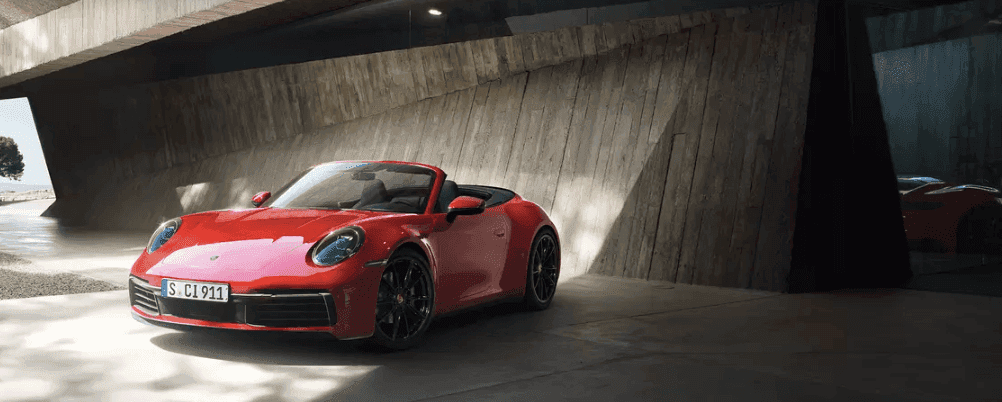 Westlake Village drivers know that the 2020 Porsche 911 Carrera is a sleek beast equipped with a twin-turbocharged engine that has a top speed of 182 mph, goes 0-60 mph in just 4 seconds flat, and gives the driver 379 hp…but is it comfortable? Yes. In fact, the latest Porsche 911 interior isn't only comfortable, it's also technologically advanced, and as eye-catching as the exterior. Read more details below, or come by Rusnak/Westlake Porsche for a test drive.
Porsche 911 Standard Interior Features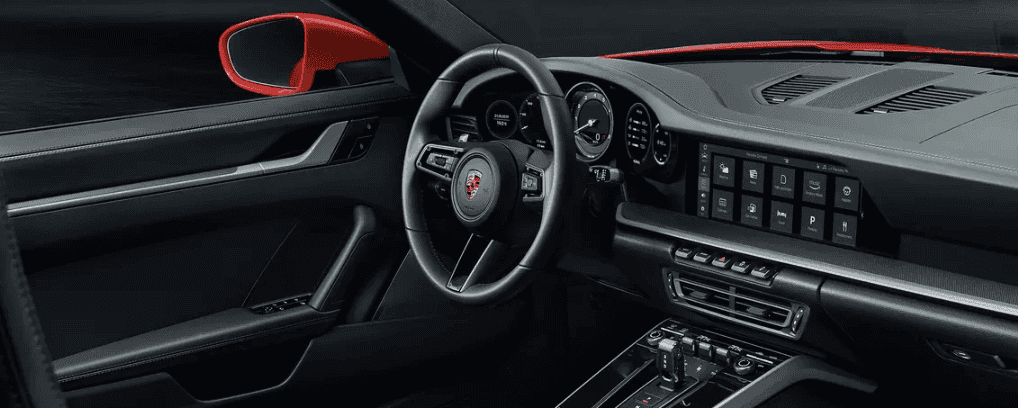 Luxury and comfort live in harmony with technology inside of the 2020 Porsche 911 Carrera, Carerra Cabriolet, Carrera S, and Carrera 4S. Obvious standards include leather upholstery, supportive Sport seats, two rear seats, and heated front seats. You even get two high-resolution screens in the instrument cluster, and another larger screen that fits effortlessly to the right of the wheel. Standard features you can expect from the latest Porsche 911 Carrera include:
Dual-zone automatic climate control
Porsche Communication Management (PCM) infotainment system
Two high-resolution 7˝ displays inside the instrument cluster
10.9-inch touch screen in the middle of the dash
Elevated center console that's decoupled from the dashboard
Two USB ports
Apple CarPlay™
Wi-Fi hot spot
8-speaker audio system
Satellite radio
Radio Plus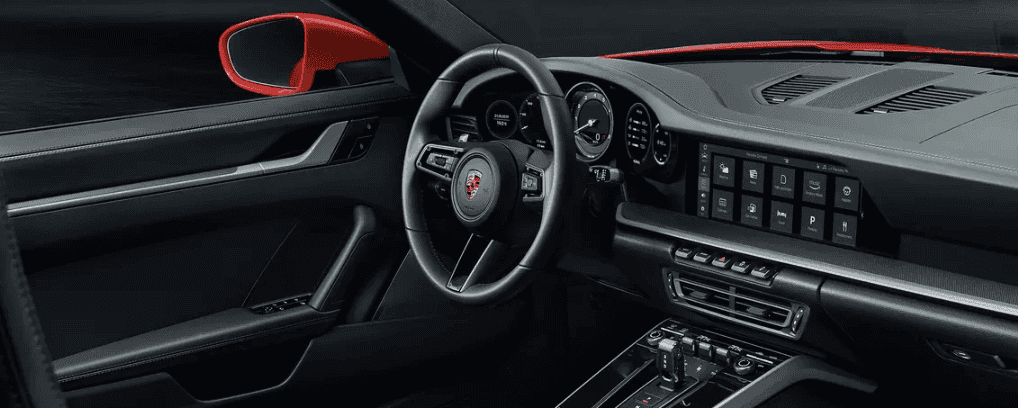 Porsche 911 Available Interior Features
If the standard features on the Porsche 911 are cutting-edge, the optional features available to Agoura Hills drivers are the future. An app can track your cars' performance and send the results to your phone, an ionizer cleans the cabin air, and the available seat upgrade offers unbelievable lateral support for dynamic driving. Some of the available features you might want to check out:
Sunroof (available in steel or glass)
12-speaker Bose audio system,
13-speaker Burmester audio system
Porsche Track Precision app
Sport Seats Plus
Air ionizer
Test Drive the Porsche 911 at Rusnak/Westlake Porsche
The Porsche 911, which seats four, continues to speed headlong into the future—are you there with it? If you're still curious about the various Porsche 911 models, check out our comparison of the 2019 Porsche 911 Turbo vs. 2019 Porsche 911 GT3, our side-by-side look of the Porsche 911 and the 2019 Porsche 718 Cayman, and our research on used Porsche GT2 RS and GT3 models. It might also help to compare the Porsche 911 interior to the interior of the Porsche Panamera. And if you're ready to hop into the driver's seat, check out our Porsche 911 sports cars for sale near Oxnard, then schedule a test drive. Want to learn more about high-performance 911 models? Be sure to compare Porsche 911 GT2 RS vs. 911 GT3 RS models with our team. We'd also love to help you find your favorite manual Porsche models and Porsche Taycan trim levels.
Learn More With Rusnak/Westlake Porsche
The 2021 Porsche Cayenne E-Hybrid is one of the five exciting Cayenne variants you can bring home to Westlake Village. Offering uncompromising power, grace, performance, and style, the new Porsche Cayenne E-Hybrid stands up to even the strictest scrutiny. When you hit the Malibu streets in a 2021 Porsche Cayenne Hybrid, you will be able…

The all-new and all-electric Porsche Taycan has taken the world by storm, and it's not hard to see why. Offering purebred Porsche performance in an electrified and refined package, the Taycan is turning heads from Westlake Village to Malibu. But do the Porsche Taycan 0-60 times live up to the hype and match up against the…

The 2020 Porsche Taycan has been getting enthusiasts excited for quite some time now, and it's here to impress you on every Agoura Hills drive. So what is it about this all-electric Porsche that makes it so unique and exciting? You won't simply have to take the word of our team at Rusnak/Westlake Porsche near Westlake Village….