2020 Porsche Taycan Specs

---
---
The 2020 Porsche Taycan has landed in Thousand Oaks, and it's been engineered to dominate the road. This incredible all-electric Porsche has been hotly anticipated for years, and our team at Rusnak/Westlake Porsche near Westlake Village knows that it's been worth the wait. Our team will help you examine the impressive 2020 Porsche Taycan specs to help you better understand why it's the most impressive all-electric vehicle on sale today.
2020 Porsche Taycan Specs: Power and Performance
When you're ready to add electric performance and race-bred Porsche technology to your Westlake Village drives, 2020 Porsche Taycan specs are sure to impress. One of the key performance features found in the 2020 Porsche Taycan for sale is Launch Control, giving your Taycan Overboost Power of 560kW.
4S Engine: The 4S engine powers up to 482 hp and 479 lb-ft of max torque with Launch Control. Its Overboost Power pushes it to 562 hp!
Taycan Turbo: The Turbo powers up to 616 hp, and its Launch Control boosts the torque to 626 lb-ft and a 670 hp Overboost Power.
Taycan Turbo 4S: The Turbo 4S powers up to 616 hp, but its Launch Control bests even the amazing specs on the Turbo with a max torque of 774 lb-ft and max 750 hp.
It's the Launch Control system that pushes the 2020 Porsche Taycan 0-60 mph in 2.6 seconds!
2020 Porsche Taycan Efficiency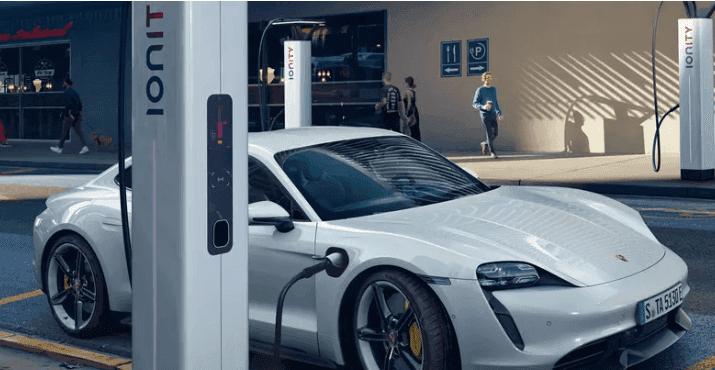 The 2020 Porsche Taycan offers an unbelievable blend of high-performance capability with an impressive EPA-estimated Driving Range.
Driving Range: The Taycan has a massive 192-mile range, so you can go very far before charging it.
800-volt System: With this system, not only do you get outstanding range; your Taycan will charge at incredible speeds.
Intelligent Range Manager: This available technology adjusts climate and speed once you enter your destination so you don't run out of fuel.
2020 Porsche Taycan Specs: Dimensions
When Malibu drivers inspect 2020 Porsche Taycan specs and dimensions, they might be surprised how roomy it is while offering sports car handling, performance, and design.
Width (with/without mirrors folded in): 77.5 inches / 84.5 inches
Curb Weight: 4,953 pounds
Gross Vehicle Weight Rating: 6,349 pounds
The Porsche Taycan allows for storage in two different locations: the front luggage compartment that is 2.8 cubic feet, and the rear luggage compartment that is 14.3 cubic feet. With a total of over 17 cubic feet of cargo space, 2020 Porsche Tacan specs offer impressive convenience you might not expect.
Find out more about the 2020 Porsche Taycan with Rusnak/Westlake Porsche!
These 2020 Porsche Taycan specs are just one part of what makes this all-electric model so impressive. You should also learn more about the Porsche Taycan reviews. When you want to transform your drives from Thousand Oaks to Agoura Hills, don't hesitate to contact us online to see how you can take home your favorite new Tacan in our inventory.
Learn More With Rusnak/Westlake Porsche
The 2021 Porsche Cayenne E-Hybrid is one of the five exciting Cayenne variants you can bring home to Westlake Village. Offering uncompromising power, grace, performance, and style, the new Porsche Cayenne E-Hybrid stands up to even the strictest scrutiny. When you hit the Malibu streets in a 2021 Porsche Cayenne Hybrid, you will be able…

The all-new and all-electric Porsche Taycan has taken the world by storm, and it's not hard to see why. Offering purebred Porsche performance in an electrified and refined package, the Taycan is turning heads from Westlake Village to Malibu. But do the Porsche Taycan 0-60 times live up to the hype and match up against the…

The 2020 Porsche Taycan has been getting enthusiasts excited for quite some time now, and it's here to impress you on every Agoura Hills drive. So what is it about this all-electric Porsche that makes it so unique and exciting? You won't simply have to take the word of our team at Rusnak/Westlake Porsche near Westlake Village….