How Does the Porsche PDK Transmission Work?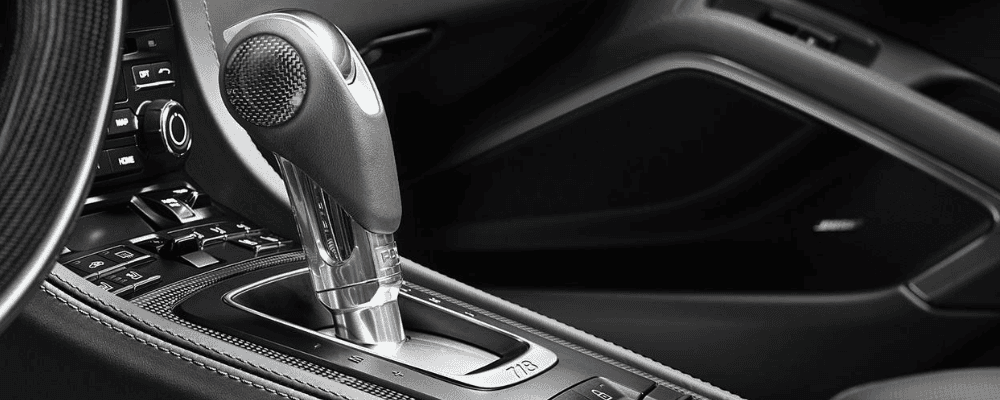 ---
---
If you're keen on the Porsche performance features and drivetrain specs, you're likely familiar with the Porsche PDK transmission. After all, it's available on a wide range of Porsche models, ranging from the Porsche 911 to the Porsche Macan. Are you wondering, "what is the PDK transmission?" Our team at Rusnak/Westlake Porsche will help you learn about the Porsche PDK transmission today to help you better understand how it can improve your performance in Agoura Hills.
How the PDK Transmission Works
While some may believe otherwise, the 7-speed Porsche Doppelkupplungsgetriebe PDK is not an automatic transmission. While automatic transmissions use a torque converter to make your gears change, the PDK transmissions still rely on human input with paddle shifters to initiate gear changes. It works much like two manual transmissions in tandem–one set for odd gears, and one set for even. When you're in an odd gear, the clutch packs engage the even gears, allowing them to spin freely, as if they were set to neutral in a manual transmission. This means they are always ready to be selected the exact moment you're ready to change gears. In fact, gear changes with the Porsche PDK are so quick, they are nearly imperceptible to humans–lasting only a few milliseconds.
Porsche PDK vs. Manual
Compared to manual transmissions, the PDK offers faster shifts, reactions, acceleration, and lap times. The PDK transmission was originally developed for racing, but it also offers many more advantages as well. There's no clutch to engage, meaning you can focus more on hitting apexes, or simply enjoying your Agoura Hills commutes. And of course, it even offers an automatic mode for everyday drives. Further advantages include:
Quickest available acceleration
Fast gear changes with no powerband interruption
Lower fuel consumption
Enhanced comfort overall
Lighter weight
Which Porsche Vehicles Offer the PDK?
What Porsche models use the Porsche PDK transmission? Take a look at the models that use this incredible motorsports-derived transmission below:
Try Out the Porsche PDK Transmission Near Westlake Village!
Are you ready to see how a Porsche PDK transmission can help make your lap times quicker and your daily drives more enjoyable? Our team at Rusnak/Westlake Porsche is ready to help you get behind the wheel of your favorite Porsche PDK-equipped model in Westlake Village. Contact us today to schedule a test drive near Malibu.
Want to take your search to the next step? Be sure to check our selection of used Cayenne models and Porsche Boxster lease deals.
Learn More With Rusnak/Westlake Porsche
Once you've spent time with the 2022 Porsche Cayenne interior, you won't be able to settle for any rival on the market. This powerful, spacious, and luxurious SUV combines the best in driver-focused convenience with features that will keep all of your friends and family members comfortable and entertained. This finely crafted cabin has been…

Choosing the Porsche Macan luxury SUV as your next Westlake Village ride means gaining access to the upgraded and luxurious features in the new Porsche Macan interior. Experience the new Porsche Macan interior with our team at Rusnak/Westlake Porsche with a test drive to see just how much this model can enhance your Malibu drives. In the…

When you're looking for a new luxury model with plenty of interior space, you can trust the new Porsche Cayenne has what you need on your Westlake Village commutes. With ample Porsche Cayenne dimensions and high-end materials, you can expect a comfortable and stylish ride no matter where the Malibu roads may lead. Learn more about…