When to Replace a Serpentine Belt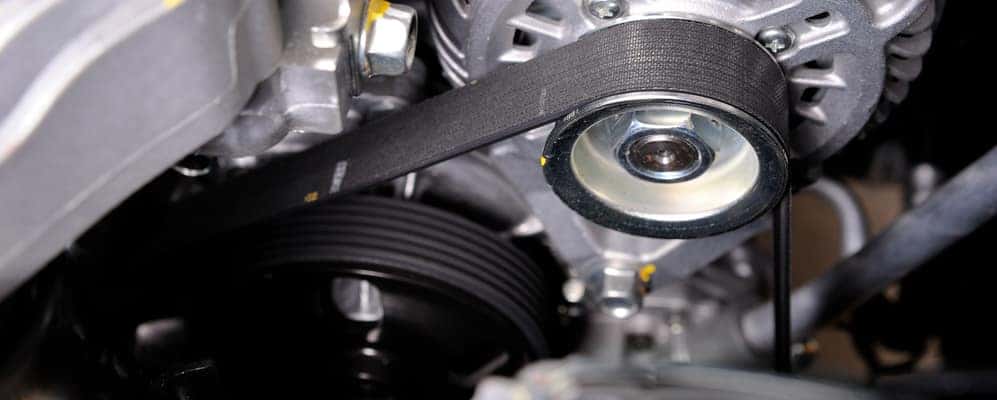 Wondering how long a serpentine belt will last? The serpentine belt (or fan belt/drive belt/accessory drive belt) in your Porsche is made of highly durable rubber, and can generally be expected to last for 50,000 to 100,000 miles. Heat and friction tend to wear down the serpentine belt over time, so it's important to have it regularly inspected at our service center near Westlake Village. Learn more about when to replace your serpentine belt from the experts at Rusnak/Westlake Porsche.
What Does a Serpentine Belt Do?
The long, winding, serpentine belt in your Porsche drives power to the alternator, power steering pump, water pump, and a/c system. When in good condition, the drive belt efficiently and effectively delivers power to other systems in the vehicle as well.
Signs It's Time for Replacement
Due to normal wear and tear over time, serpentine belts begin to peel, crack, slip, or fray, reducing their effectiveness. Some of the warning signs that your serpentine belt needs to be replaced include:
Squealing Noises: Squealing, screeching, or chirping sounds indicate that the belt is stretched too far, has lost tension, or the belt and pulley are not correctly aligned.
Wear and Tear: It's easy to tell when the belts are wearing out. If you see cracks, uneven wear, or fraying, it's time to have them replaced.
Systems Failure: If the power steering and/or air conditioning go out, you should have the serpentine belt replaced as soon as possible.
Complete Breakdown: If the belt fails to work it will result in a potentially dangerous breakdown, which can be an extremely dangerous situation for you and others on roads in and around Malibu. Breakdowns can be prevented by regularly inspecting and replacing the belts as needed.
What is a Belt Tensioner?
Today almost all drive belts come with self-adjusting belt tensioners. These apply the correct amount of tension on the belt through an internal spring and pulley system. Belt tensioners help to prevent the belt from breaking or slipping, which in turn ensures that the power steering, cooling system, and engine keep running. The belt tensioner should be replaced at the same time as the serpentine belt.
Schedule Belt Service Near Agoura Hills
Making a point of routinely inspecting your Porsche model's serpentine belt will help to prevent costly repairs down the road. When you bring your Macan, Panamera, or 911 in for an inspection or affordable oil change at Rusnak/Westlake Porsche, our certified service technicians will make sure your drive belt is in good condition, and will also check your tire tread, transmission fluid and brake fluid level, and more. Make sure to take a look at our current auto service specials to find money-saving deals on a wide range of maintenance services, then schedule a service appointment today!
Also be sure to learn more about Porsche detailing, car loan interest rates, or extended warranties with our team. We'd also love to help you learn about the all-new Porsche Taycan trim levels.
More from Rusnak/Westlake Porsche
The Porsche 911 comes in 3 main trims: the Porsche 911 Carrera, the Porsche 911 Targa, and the Porsche 911 Turbo. Each of these model lines feature their own set of configurations, which means that when Westlake Village drivers shop for a Porsche 911 at Rusnak/Westlake Porsche, they have a total of 15 models to choose…

The 2021 Porsche Cayenne E-Hybrid reviews are in and critics are raving about this fuel-efficient luxury SUV. Underneath the elegant lines of this stunning design lies a powerful yet economical hybrid system ready to propel you through Westlake Village with less gas but ultimate style. Learn more about what the Cayenne E-Hybrid coupe can do…

The 2021 Porsche Cayenne E-Hybrid is one of the five exciting Cayenne variants you can bring home to Westlake Village. Offering uncompromising power, grace, performance, and style, the new Porsche Cayenne E-Hybrid stands up to even the strictest scrutiny. When you hit the Malibu streets in a 2021 Porsche Cayenne Hybrid, you will be able…